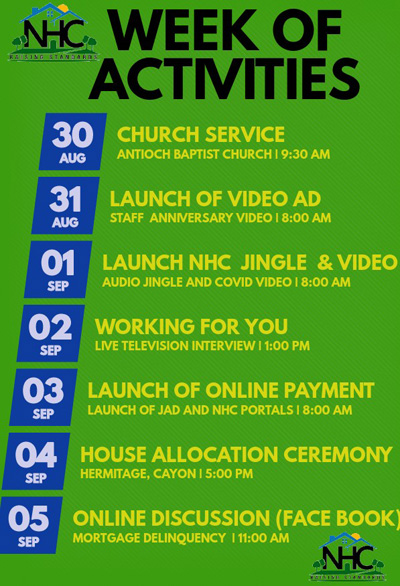 BASSETERRE, ST. KITTS, August 26th, 2020 — The National Housing Corporation (NHC), will be celebrating its 24th Anniversary on September 1st, 2020.
The National Housing Corporation (NHC) was incorporated in 1996 after being renamed from the Central Housing Authority (CHA). NHC was created by an Act of Parliament in 1997 for the purposes of "adding and improving" the existing supply of houses and enhancing the usefulness of the funds of the Corporation by promoting greater efficiency in the housing sector.
The rate at which the Corporation has grown has been stratospheric, with the construction of over 2000 affordable homes and over 5000 lots distribution across the island. In addition, staffing increased near 70% during the period. The past five (5) years have been pivotal with the addition of two (2) new departments; the Client and Public Relations and Purchasing departments, along with the construction of over 300 Unity Houses.
To mark this momentous occasion, NHC has planned a list of activities that will run from Sunday 30th August to Saturday 5th September, 2020. Happy Anniversary to the Management and Staff at NHC!